Usually lingerie is made for wearing it under your regular clothes. But it can be so beautiful it would be a shame to hide it! Wearing a stunning set of bra, panties, corset, nylons, garters and high heels doesn't let me feel naked at all. On the contrary: I feel perfectly dressed to do whatever I want! Marylin Monroe said: "Give a girl the right shoes and she can conquer the world!". I agree but as a busty woman I would like to add: "Give her the right bra too!" 😉
As long as I can remember I am in love with fine and extraordinary underwear. My eyes start to sparkle when I see satin and lace, garters and corsets and sometimes I even start to make sounds that one usually makes when seeing a bunch of baby kittens 😀
With my natural grown wonders (bra size EU 80G or UK 36F) finding those lingerie babies is not always easy but that makes it even more special when I get a new set. And sometimes I get a little carried away when it comes to lingerie shopping (especially when there is a red sale sign on it *g*) and than it can be like this: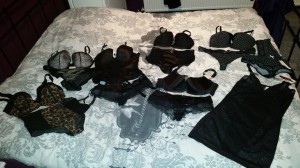 I don't appreciate requests for naked sessions (even if I get naked sometimes in tease and denial games but that's a different topic 😉 ) but I have no objection to do a session in lingerie. If you would enjoy a dominant encounter with a dressed to kill lady in underwear: Feel free to ask for it! I'm sure there is more than one of you out there appreciating this offer 😉
Also if you would like to see me in a special set or just want to make me happy: Bring it on! Rather than maybe some other ladies I am not offended by giving underwear 🙂
So far lingerie (as well as pantyhoses) got a little short shrift in my photo shootings but I hope to change that in the upcoming months. Let's hope I find the time for it! Until then my wishlist gives a nice orientation of what I like.
But I also would like if you, my dear readers, have any kind of preferred undergarments! This question goes to the gentlemen as well as to the ladies I know reading here too! 😉
To finish this article: What would be an article talking about sexy clothing without a little eye candy, hm?
Here we go, enjoy!